Welcome!
Today is

Notice
QA/RM and Exec Staff Meetings
will be held in Marion, not Dillon
All employees who handle PHI (Protected Health
Information) or PII (Personally Identifiable
Information) in any form (including Therap) are
required to undergo annual Cyber-Security
Training. You have received notification of
this training in your agency email. Training
for all staff must be completed by March 6.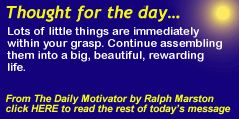 February Events
Click here to view monthly calendar

Feb 12 - 9:30 - Safety Committee (Marion Center)
Feb 14 - 9:30 - QA/RM Committee Meeting (Marion Center)
Feb 14 - 10:30 - Executive Staff Meeting (Marion Center)
Feb 18-19 - 9:00 - Mandt recertification training (Marion Center)
Feb 26 - 9:00 - Adult CPR (Marion Center)

Do you know how to spot a fake anti-virus alert?
Click on Answers in the menu to find out.

(click logo to see honorees)
Don't be victimized by a Fake Check Scam.
Protect your financial health.
Learn more at FakeChecks.org