Welcome!
Today is

Congratulations!
Employee of the Month
Tarsha Dixon!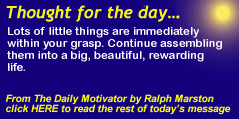 December Events
Click here to view monthly calendar

Executive Staff Meeting canceled this month
Dec 3-14 - 9:00 - Pre-Service Training (Marion Center)
Dec 12 - 9:30 - Safety Committee (Marion Center)
Dec 14 - 10:30 - QA/RM Committee Meeting (Dillon Center)
Dec 24-31 - Christmas Holidays (Offices and Activity Centers closed)
Jan 2 - Resume normal schedule

Do you know how to spot a fake anti-virus alert?
Click on Answers in the menu to find out.

(click logo to see honorees)
Don't be victimized by a Fake Check Scam.
Protect your financial health.
Learn more at FakeChecks.org